There is two fundamental types of boat involved in paddle sport, this is canoes and kayaks, to decide which is best for you we need to think about
How many people will you have in the boat at a time?
Where do you want to use it (Sea, sheltered rivers, lakes?)
Click on the headings to see our selection of each type of craft.
Canoes
Canoes tend to be larger and more stable than a kayak, they come with 1, 2 or 3 seating positions and in the 3 seat version the centre seat is often large enough to sit 2 children side by side. Canoes have a very large carrying capacity, generally much larger than kayaks so are ideal for family days out on the water.
Kayaks
Kayaks come in a few different versions which can be grouped together as Sit inside, Sit on top and inflatable. Kayaks tend to be smaller than a canoe and come in one or two seat versions, though almost all kayaks are single seater.
Sit-on-top Kayaks
Islander Calipso
Sit on top kayaks are ideal for beginners. Being open topped if you were to fall of you just climb straight back on top of them! These boats are ideal if you're looking to just get out on the water to mess around or want to play in the surf at the beach, they are designed to be very stable but easy to use.
Sit inside Kayaks can be broken down into a few different versions.
Crossover and Recreational Kayaks
Dagger Zydeco
Recreational kayaks tend to be sorter than the touring boats and have a range of features to make them easier to paddle. Many feature a drop down skeg, this makes the boat track in straight line with less effort when it is down but when raised allows for a high level of manoeuvrability. These boats are ideal for most paddlers who want a boat which will allow them to do a bit of everything. Corssovers have a more rounded hull than other recreational boats allowing for greater manoeuvrability so you can some easier white water.
Touring Kayaks

Venture Islay 12
Touring kayaks are ideal for paddling on lakes, canals and larger rivers as well as sheltered seas. They tend to be in the 10 to 14 foot length range and have storage hatches with enough space to accommodate camping kit for a couple of nights away. Touring kayaks are designed to be reasonably fast through the water to help maximise efficiency, but this does tend to come as a trade off against stability.
White Water Kayaks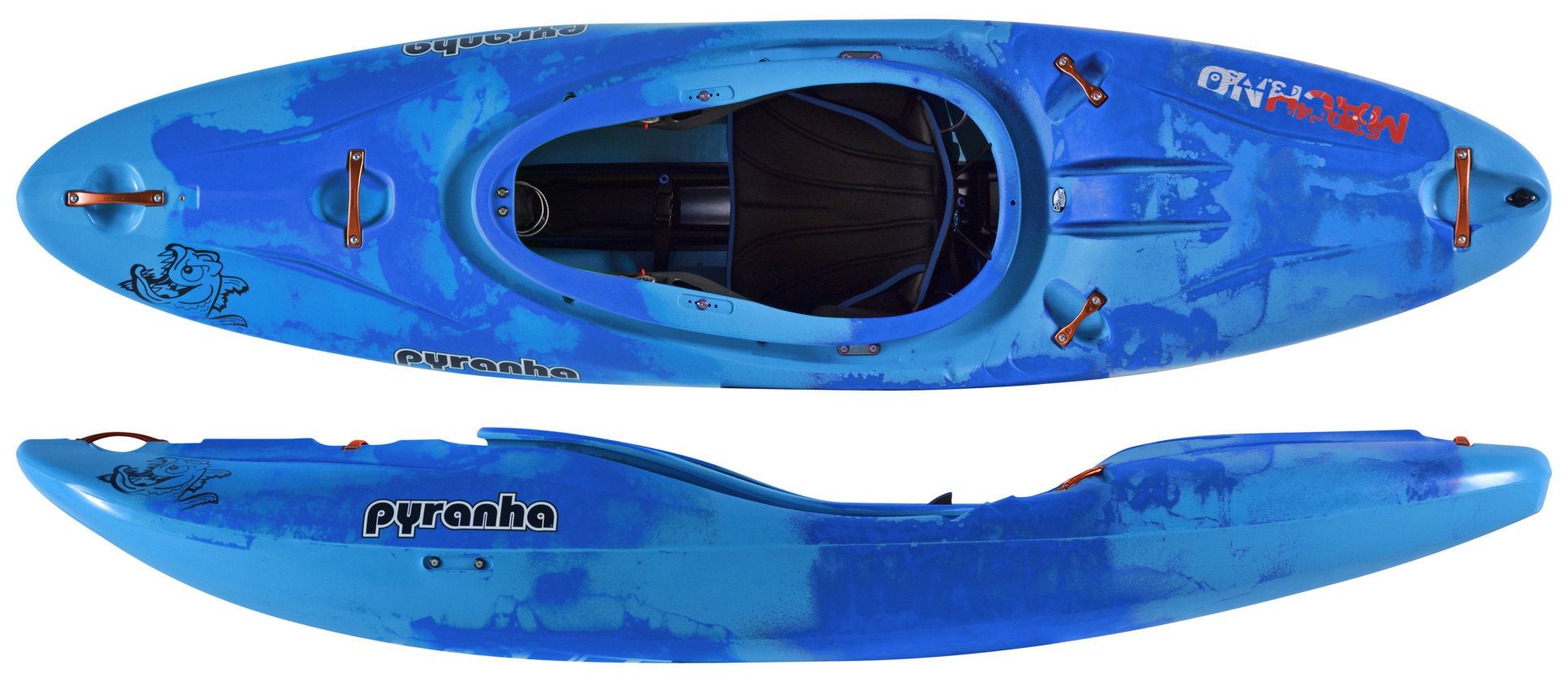 Pyranha Machno
White water kayaks are normally shorter than the other types of kayak, the longest are around 9 foot long. They're designed to offer maximum manoeuvrability but this means it's much harder to keep them traveling in a straight line. There is a wide range of features used in these boats to allow them to serve different purposes, from Play boats for doing tricks to river runners designed to get you from the top to the bottom of large rapids allowing you to play on the way down.
Sea Kayaks
Wilderness Systems Tempest 165
Sea kayaks are usually the longest of the kayaks with many being around 17 foot long. The hulls shape allows them to cut through waves well and is designed for maximum efficiency and strong forwards tracking, this means they are a lot harder to turn, but at sea you usually have plenty of space to spin them round! They normally have large storage capacity with multiple hatches.